Holocaust Memorial Day Trust
Stephen Fry joins a diverse group of British artists and Holocaust and genocide survivors in launching a major new arts project in which survivors' stories will be interpreted and explored through writing, poetry, film, ceramics, illustration and collage. The Memory Makers project is pairing seven artists with survivors of genocide living in the UK. The artists have partnered with survivors to hear their remarkable life stories, before creating a work of art that captures the experience of the meeting.
Ceramicist Clare Twomey met Nisad 'Šiško' Jakupovi%u0107, who survived the notorious Omarska concentration camp during the Bosnian War. Nisad experienced the horror of communities turning on one another as school friends became oppressors. The pair discussed Nisad's experience of the camps, and how human solidarity can triumph even in horrific circumstances.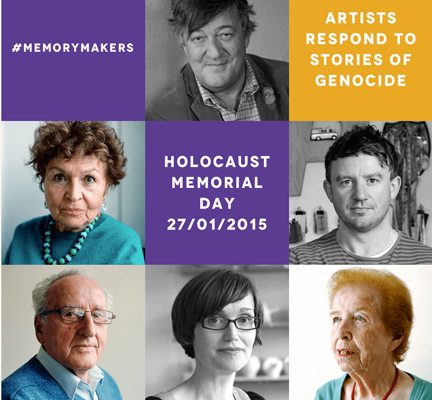 ---
Denver Art Museum
Overthrown: Clay Without Limits
On view through September 18, 2011
Clare Twomey has made a site specific work that extends across the whole of the Art Museum, this sculptural work was commissioned to run along side the exhibition - Overthrown: Clay Without Limits. In the exhibition Overthrown many of the works are in direct dialogue with our dynamic Daniel Libeskind-designed architecture; they move beyond the pedestal to the wall, the floor, and even the ceiling. A few extend beyond the Anschutz Gallery, across the entire museum complex. They break boundaries that are physical, technological, conceptual, and spatial.
---
THING, TANG, TRASH
17th September 2011 to 8th January 2012
Arts and Crafts which use industrial waste products and ceramic materials as starting points for new creation.
Upcycling is the process of converting useless objects and waste materials into new products of greater value.
Mounted in all the museum's gallery rooms, this international exhibition will present works which use industrial waste products and ceramic materials as starting points for new creation.
Participants at the Exhibition "Ting Tang Trash: upcycling in contemporary ceramics" Barnaby Barford (UK), Neil Brownsword (Storbritannia), Marek Cecula (Polen), Nicole Cherubini (USA), David Cushway, Robert Dawson, Jens Erland, Gésine Hackenberg (D/NL), Susanne Hangaard Jensen (DK), Gitte Jungersen (DK), Hella Jongerius, Håkan Lindgren (S), Carol McNicoll (UK), Anne Helen Mydland (N), Evert Nijland, Irene Nordli (N), Ted Noten (NL), Ruta Pakarklyte, Kjell Rylander (S), Richard Slee (UK), Paul Scott (UK), Caroline Slotte (F), Linda Sormin (Thailand/CA/USA), Jimmy Stambrandt, Hans Stofer (CH/UK), Per B. Sundberg (S), Svein Thingnes (N), Clare Twomey (Storbritannia).
Curator: Heidi Bjørgan
---
Plymouth City Museum & Art Gallery
March 2012
Plymouth City Museum and Art Gallery will commission a new art work from internationally renowned British artist and ceramicist, Clare Twomey. For inspiration it will draw on the museum's important ceramics collections, in particular the extensive range of Oriental and Plymouth porcelain.